Free Resource from Chrom Tech




Your Chromatography Consumables Specialists
Even experienced chromatographers struggle
to dispose of solvent waste in a safe, compliant way.
If you've been written up for how you handle your waste, consider this: For the cost of an HPLC column, you could be compliant. Not only that, you can trust that you are protecting your people and your property.
But knowing you should do it right, and knowing how to do it right are two different things. In this free resource, discover the 4 best practices for collecting HPLC waste that will ensure you:

Have the Right Size for Your System

Reduce Environmental and Personnel Risk

Avoid Costly Fines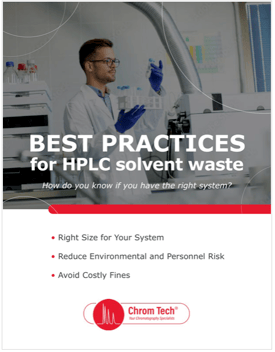 Your free guide will be delivered by email. Please check your junk folder in case it is sorted incorrectly by your email provider. At Chrom Tech, we love science, not SPAM. We promise to respect your privacy and never share your information.
Many of the most experienced chromatographers and lab technicians aren't disposing of solvent waste in the best matter.

After all, your focus is on improving lives through science. Your boss is expecting answers about 14 steps before the solvent waste. You are being paid to give an answer on the chromatography, not to be the so-called "safety officer" who drew the short straw.
Which leaves many people doing it wrong. And they just deal with the repercussions. Their staff breathes in VOCs. They get fined year after year.
But it doesn't have to be that way.
Download our free guide, follow the steps, and then breathe deeply (because the air will be VOC-free)!